In 2020, on the initiative of residents and local NGOs, the Mayor of Warsaw decided to organise the Warsaw Climate Panel. Three NGOs were commissioned to implement the process: Civis Polonus Foundation, Field of Dialogue Foundation and Shipyard Foundation.
The organisers randomly selected 18,000 households to receive an invitation by post to participate in the Panel. Recipients of the invitation were able to choose one (at least 15 year old) person from their household to participate in the Panel meetings. From the 337 people that responded to the invitation, organisers selected a group of 90 participants. This final group represented a population of Warsaw - people of different genders, ages, levels of education.
How does it work?
Due to the coronavirus pandemic, all meetings took place online. Residents met five times. There was 1 kick-off meeting, 2 educational meetings and 2 deliberative meetings. During the educational meetings, experts from the fields of environmental protection and energy policies spoke to panelists about environmental problems and solutions the city could adopt. During the deliberative meetings, participants discussed and voted on recommendations to the city authorities. The city will implement any recommendation that has received a min. of 80% support from the panelists.
Video about Warsaw Climate Panel
A device to watch the video on (TV/laptop/projector) with internet connection
Photos with holiday destinations - on presentation or printed
Main objective:
Students learn about co-deciding on an example of the Warsaw Climate Panel.
Detailed objectives:
Students learn what co-deciding/participation is and why it is important in democracy.
Students get to know one specific method of participation - civic assembly.
Students discuss topics on the class or school level they would like to be involved in decision making processes and plan the decision making process?
PART I (45 MIN.)
1. Introduce the topic to the students (2 min.)
Tell them that you will discuss ways of involving citizens in decision making in democracy, deliberate on what makes democracy really democratic and identify areas of school/local life where young people could be involved in making decisions.
2. Tell students that now you have to make an important decision (5 min.)
You are able to spend one week in one holiday destination together, absolutely for free - but you have to decide on one place together as a group. Present 4 possible options:
hotel at the seaside - comfortable but definitely not a calm area.
hike in the mountains - for those who love nature, physical activity and do not need a lot of comfort.
cottage in the village - far from civilization, great local food, not for party lovers.
big city tour - visit Paris and get to know the most attractive museums, touristic sites and attractions.
Tell them you will use 3 methods of decision making - at the end you will discuss them to find out what are the advantages and disadvantages of each of them.
3. Three types of voting (10 min.)
a) by shouting - on signal everybody shouts out the name of the destination. You as a trainer decide which one you heard most clearly, but you can also choose the one that you heard at first or at the end.
b) by voting - ask students to raise their hands or to write down the number of the destination they choose. Count the votes and announce which one was chosen.
c) by discussion - divide students into small groups (3-4 people). It is important that within one group should be people who voted for different destinations in the previous step. Tell students: "Please share with each other what are your needs and expectations towards the holiday destination, try to listen to each other and decide on one destination that could fulfil most of the needs and be ok for the whole group." They have 5-7 minutes for the discussion.
Additionally: If you have more time you can make more steps of the last stage - after the small group discussion you can combine groups together and they should do the same again but in a bigger group, The last step is that the whole group should decide on one destination.
4. Sum up the activity (15 min.)
Ask the groups if they were able to decide together on one destination - who made a consensual decision? What were the arguments that helped you understand the needs of others and change your preference? Was it easy or difficult to resign from your first choice? Would it be equally easy to give up your first choice if it was a real situation? Why?
Sum up shortly the three types:
a) Shouting - This simulates decision making with no fixed framework or rules, where the ones who have the most strength or flair wins. It is a situation similar to when a rich businessman or media company owner is able to influence or corrupt politicians to make decisions according to his company's or his group's needs. It is also similar to a situation where two or more sides are in a continuous fight for something - land or resources.
b) Voting is a popular way of making decisions, often equated with democracy. But voting does not mean that a country or institution can be considered democratic (e.g. North Korea, Belarus or other authoritarian countries where elections and voting take place).
c) Discussion - The third way was to simulate those ways of making decisions in which interested persons had the opportunity to directly participate in the process, express their needs and ideas, discuss and participate directly - you will focus on one of these methods soon.
Ask participants to discuss in pairs or reflect individually on the advantages and disadvantages of the second (voting) and third (discussion) methods of decision making. They get 7 minutes to write down the advantages and disadvantages of both methods.
Sum up the advantages and disadvantages of both methods - you can write it down on the board/flipchart or online.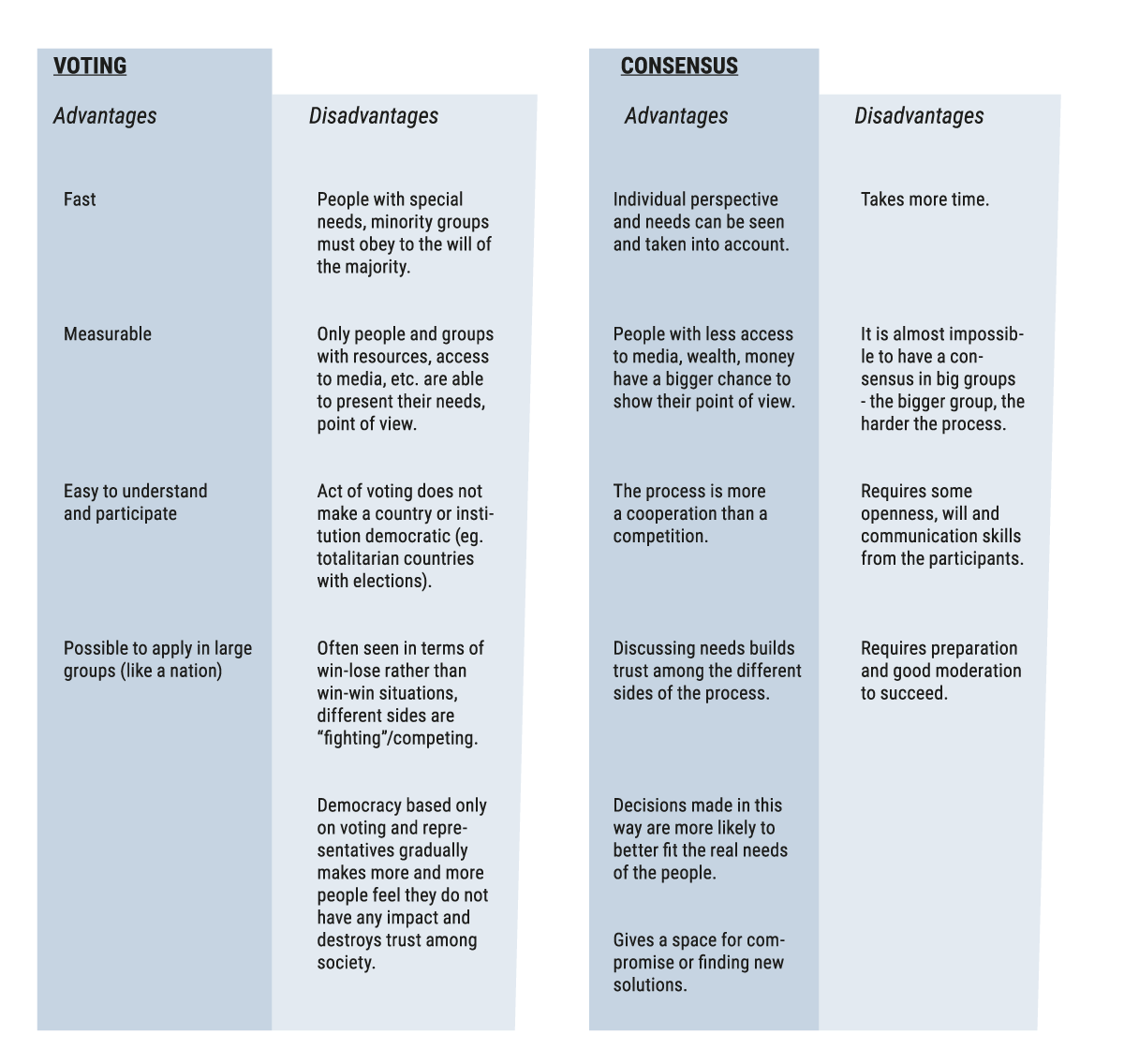 Tell students that very often democracy is linked with voting but the same act of voting/elections does not make society or institutions democratic. This is obvious in totalitarian countries that make fully-controlled elections to justify the regime, but also in traditionally democratic western countries, we can see how small groups of business and media owners can manipulate and influence public opinion. Many people are disappointed with democracy because they do not feel that their voice matters, and that all the important decisions are made by the people in power.
One solution for this crisis in democracy is a method of involving regular citizens more in the decision making process - these are methods we call civic participation, deep democracy or democratic innovations. Their idea is to include more direct methods of decision making in our society.
5. Presentation (7 min.)
Short explanation of participation. Explain to students following terms:
Participation - in broad terms, this means involvement of the person in the life of the group, community, doing something together for the common good.
Civic participation - involvement of citizens in decision making processes by the public institutions (school, local government, country).
Democratic innovations are all the methods that allow civic participation to happen - methods that allow citizens to take part in decision making processes on a public level.
Tell the students that the main aim of participation is to give citizens influence on issues that concern them. It is a response to the situation of having large groups of people excluded from real democratic processes or limited just to voting once every few years.
Ask the students:
How do they understand the influence on public issues? Is it possible that regular citizens could have such an impact?
Do they know about any examples of civic participation/democratic innovations? Have they ever taken part in such activities?
Give students some examples of DI methods - consultations, participatory budget, civic assembly - have they heard about them? You could show examples of these methods from your local community (student council in school, participatory budget in the city, open consultations on the park in the middle of your town - to show that these methods are close to the students).
It is important to show specific examples from your environment to show students that civic participation and democratic innovations are close to them and easy to use. Tell them that in the second part/ lesson they will get to study one example more closely.
PART II (45 min.)
6. Short reminder (5 min.)
If you divide this activity into two parts - briefly remind students what you discussed during the first part - the experience with the three methods of decision making, what is participation and democratic innovations.
7. Video screening (7 min.)
Watch together one of the videos showing practical examples of democratic innovation (citizen assembly).
8. Short summary of the film (5 min.)
Ak students how they liked it, how did the citizen assembly work? Explain what the citizen assembly is, showing the steps of the process.
9. Ask students to discuss in pairs (7 min.)
What are the strong and the weak sides of this method?
Does this method increase regular citizens' impact on important decisions that are taken in the city? Why or why not?
Sum up the discussion in pairs, list pros and cons of the method. How can this method increase regular citizens' impact on important decisions?
Do you think it is possible to use this method on some issues in our school/community?
10. The axe of opinion (10 min.)
Ask students to answer the statements by standing on the line where one end means "yes" and the other end means "no" - in between there is a spectrum so if you do not fully agree or disagree one can stand somewhere in between.
While working online or if there is not enough space in the room you can just use numbers from 1 (strongly no) to 10 (strongly yes).
Read the following sentences and ask students to show they opinion by standing in the right position:
I have a real impact on how my school works.
I have a real impact on how my town/neighbourhood works.
I have a real impact on how my country works.
After each sentence, give some time to stand on the line. Then you can ask some students why they choose their position (especially ask for an explanation if some students chose extreme points).
Sum up - it is not easy to feel that your voice is heard and that you have a real impact in large groups. Some schools cannot even gather to discuss in one large room, as there are too many students. This is why we need participatory/democratic innovation methods that are aimed at strengthening the influence of regular citizens. In our school or on a local level, we are able to propose and initiate such processes.
11. What issues are important for you? (7 min.)
Individual reflection - ask students to think about the top three issues that are important to them. These should be issues in which they would like to be more involved in the decision making processes or in general they think that young people should have a stronger voice.
You can make a table shown below on a board or virtual tool like a Jamboard. Ask students to write their answers on post-its and put in the right column (one topic on one card)
List the topics/issues that are important for you and you would like to be more involved in decisions concerning these issues?
School/class level Local level
Categorise the answers of the students by putting similar answers together to see if there are some topics common for the big part of the group.
Sum up all the issues, focusing on those which are popular.
12. Choose together with the students one or more issues
(you can do it by fast voting) from the school or the local level, which is important for the students, and where you think it is possible to do something about youth involvement in this case. (10 min.)
Discuss in groups - how can youth be more involved in decision making about this topic?
Think about possible, realistic solutions, regarding the context of your school or community (e.g. issue of school rules - we can make open school discussions; we can make online consultations and then discuss results with principal and teachers, we can ask the principal to make a citizen assembly in our school on this topic, etc.).
The next steps could be to choose one of the ideas you think is most realistic and effective and plan it step by step and start implementing it!
13. Sum up the whole training
Shortly remind the students of the activities, main terms - participation and democratic innovation, citizen assembly, idea of a real democracy that is aimed at making everyone's voice heard and important. Ask participants to name one thing that was interesting/inspiring for them.